Santa Barbara – Yesterday, the National Republican Congressional Committee announced that congressional candidate Justin Fareed officially achieved 'Young Gun' status, the final level of the NRCC's recruitment program. In order to be elevated, Fareed had to meet a set of high standards established by the NRCC and prove that he has a viable path to victory in November.
"I'm pleased that the NRCC is supporting someone who will bring the next generation of leadership and 21st century solutions to Congress, so that we can present a better way forward for all Americans. Voters are tired of status quo career politicians looking for a pay raise, and our campaign will continue to offer true representation for the future of the Central Coast," said Fareed.
With the tough fought primary now over, Fareed is glad to be in partnership with the NRCC as he continues to strengthen the momentum behind his campaign and spread his message of next generation leadership and 21st century solutions to the people of the Central Coast.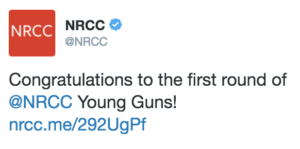 ###